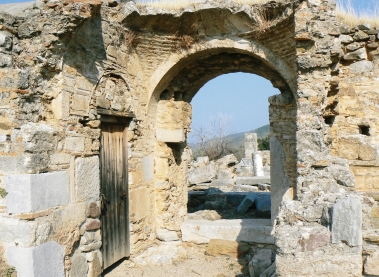 An extensive personal research for the perfect traditional Greek island retirement location with a picturesque and tranquil environment, had identified Poros Island and the village of Galatas, on the mesmerizing north-eastern Peloponnesian Argosaronic coast of mainland Greece, as our favourite... EUREKA ! ... Not only is there an abundance of traditional Greek hospitality but the area with its most agreeable climate is also gradually attracting personalities from the world of literature, culture and the arts who have chosen to withdraw from the limelight of the glamour society and enjoy a down-to-earth lifestyle, instead.
One excellent example is Zoya Popovich with the sparkling eyes and a "creator of carved wooden masterpieces" who among others, has also met and breathed the same air as Giorgietto Giugiaro, the Italian God of all designers; also Mikhail Gorbachev and his wife Raisa, etc, etc. ... The scenery is of immense natural beauty with an unspoiled coastline of remote beaches for family swimming, scuba-diving and water sports, green hillsides ideal for walking, trekking and cycling, bird-watching (of the feathered kind) at Kalloni's protected wildlife reserve... and for relaxing those aches & pains, a visit to the volcanic sulphur thermal health spas at Methana is recommended. ... But without a doubt, the jewel in the crown of the Argosaronic sea must be Poros Island with a magnificent and exquisite view across the bay from Galatas of this pine-scented, romantic and traditional Greek island. ... By day, it is the majestic, private luxury yachts, also flotillas of yachts with sailors from around the world; ferry-boats, hydrofoils, catamarans, fishermen unloading their catch & mending their nets and the islets dotted in the clear blue sea that generate a magical aquatic phenomenon; and by night, with romance in the air, it is the reflection of the tavernas and promenade lights flickering in the harbour that enchant you with an unforgettable, exquisite and perfect living picture; a sight for sore eyes, indeed! ... With a 700m altitude, the Aderes mountain range behind Galatas village, provides protection from the south-western winds, whilst the local community enjoys an enviable island environment, with all the amenities and utilities normally associated with the mainland, ie, dependable regular sea & road transport; nursery, primary, secondary (also private) education, sport & athletics; medical healthcare, civic & legal services; low cost comprehensive shopping and trade services, yacht repairs with dry dock and boat storage facilities, etc. ... Easily accessible by road and sea are Piraeus port, Athens and the EV International Airport (with daily, direct UK, European, Russian and global flights), the Parthenon at Acropolis, the Greek National Archaeological Museum, National Gallery, Ethnological and Theatre Museums, major national and cultural events, vibrant nightlife entertainment, Premier League Football, European Champions Basketball and Volleyball. ... Island cruising to Hydra and Spetses or perhaps an archaeological pilgrimage to ancient historical monuments & temples such as Olympia, Epidaurus, Mycenae, Delphi, Thesaeus palace and Corinth on a day excursion, including medieval castles at Nafplio, Korinthos and Monemvasia; the grotto of aquatic extravaganza in the underground lake of Diros Caves, with stalactites, stalagmites & natural bizarre sculptures of uncanny human and animal resemblance; Byzantine and Ecclesiastical shrines such as Mystras, Kalavrita and Ayia Lavra Monastery; the Peloponnese region is indeed immersed in history. ... Located amphitheatrically in the sanctuary of the hills behind the village of Galatas, on Poros Island and also along the coast, with uninterrupted spectacular sea, island and mountain views, building-land sites and properties are available for sale through our office, directly from their original owners. ... The popularity of the area, both with the International community and as an Athenian playground, undoubtedly contributes to the demand for local properties. ... Prices of all properties in our enriched portfolio are correct upon receipt of vendor's initial instructions and currently start from a very reasonable €12,000 for building plots / olive groves. At very modest prices too, we have apartments and houses from €22,000... rising to €12m for villas. ... Our office shall be pleased to furnish bona-fide clients with further current information, including photographs (where possible), upon receipt of your personal particular requirements. ... Also, ask us about unforgettable GREEK ISLAND WEDDINGS !!!© Copyright 2005-2023 * www.greek-island-poros.com * All rights reserved.All photographs and text displayed in our website, represent the continuous hard work of our personnel, since 2005. Copying or reproducing any of our photographs and/or text is strictly not permitted and constitutes criminal internet theft.
© 2004 - 2023. www.Greek-Island-Poros.com, all copyrights reserved. Unauthorised copying and reproduction is strictly forbidden. Web design by hertfordshire Advanced Web Designs ltd.