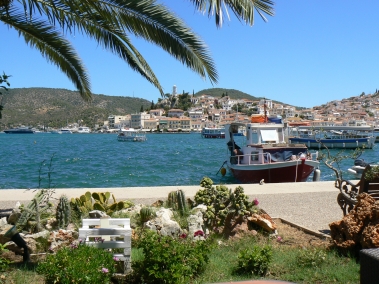 www.Greek-Island-Poros.com
... offer a courteous and professional service to both vendor and prospective purchaser. Your appointed negotiator, Andreas, has gained
a wealth of experience in both real-estate property and local knowledge of Greece
and the Argosaronic Peloponnesian coast.
At
Greek-Island-Poros
our dedicated, friendly, reliable and totally professional Anglo-Greek staff are at your service from an initial enquiry, with personal supervision at every stage, through to a successful completion of purchase.
Greek-Island-Poros
sole aim is to achieve a smooth completion of sale on every occasion and eliminate any concerns and anxiety usually associated with such an investment and in particular by an overseas, non-Greek-speaking client.
In collaboration with respected, bi-lingual solicitors and professional law practices based in Athens, our legal services extend and include obtaining the much favoured free
European 5year Golden
Greek [Schengen] Visa,
for all non-European citizens investing more than €250,000 in Greek property.
Without any obligation whatsoever and through our connections in the local community, we can introduce upon a client's own request, banking facilities & mortgages (when available), legal & architectural advisors; professional construction services, including management & monitoring of traditional or modern building projects, on clients' personal instructions.
Greek-Island-Poros
was established in the absence of a 'commercial bridge' connecting together in harmony the local vendors with international purchasers.
This enviable Greek island environment, was carefully chosen by ourselves for our personal investment several years earlier and therefore our commitment and local involvement is sincere, absolute and unquestionable.
All our energies and resources are totally dedicated to the world-wide promotion and marketing of only Poros Island, Galatas village and the surrounding Peloponnesian Argosaronic coastal area, including Porto Heli, Hydra and Spetses islands, as we believe this to be the most idyllic of all locations in Greece.
If, for any reason, you have not found a suitable property in our website on this occasion, please do contact us with your personal requirements, as in most cases it is possible for us to have several other new instructions which are not as yet advertised, for a variety of reasons.
Please do not hesitate to contact us also for any further information, in connection with a future visit and a personal inspection of properties and the area, for your final approval.
In response and with respect to vendors' wishes for privacy and preserving confidentiality, our "Properties" and "Building Plots" photographs are in some cases not taken from the actual properties concerned but from a very close proximity instead, with similar views.
We also respect and observe the wishes of vendors who do not permit explicit and recognisable photography of their properties circulating on the internet. Indeed, seriously interested, genuine bona-fide applicants are actually expected to visit the location and inspect the properties in person. A decision to purchase a property should not be based on purely internet communcation and photography.
Credentials, Testimonials and References are available upon request.
In our endeavours for accuracy and perfection, the website is subject to and indeed does receive continuous improvements, without any prior notification.
www.Greek-Island-Poros.com
appreciate and would like to thank you for your interest in our island and attention to our website.
© Copyright 2005-2023 *
www.greek-island-poros.com * All rights reserved.
All photographs and text displayed in our website, represent the continuous hard work of our personnel, since 2005. Copying or reproducing any of our photographs and/or text is strictly not permitted and constitutes criminal internet theft.